A Serene Sanctuary Calls for Reflection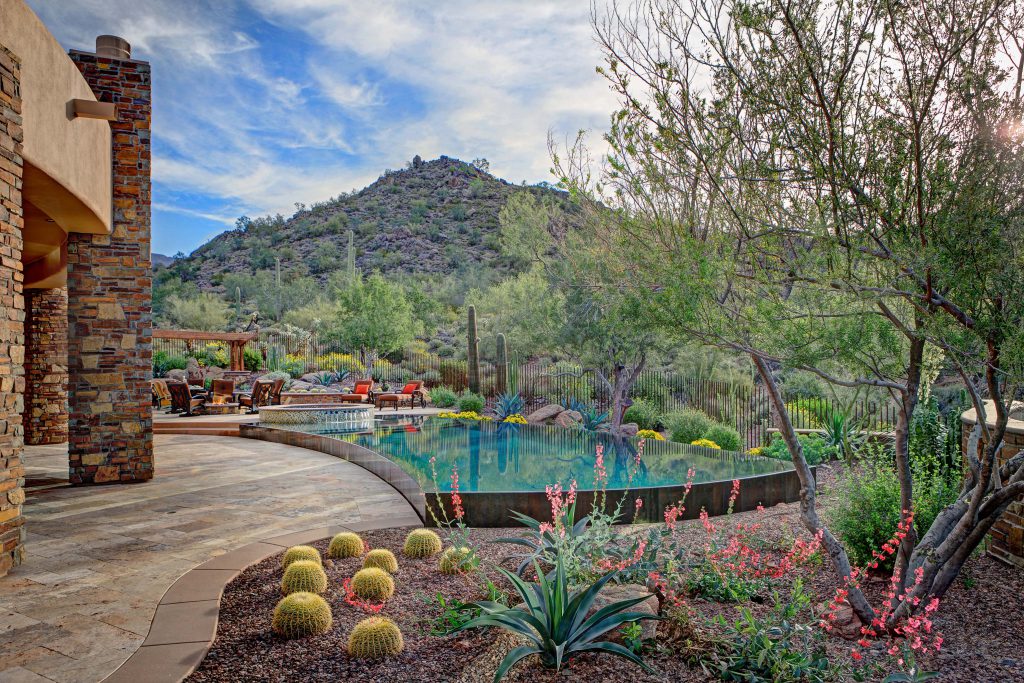 Near the base of the Superstition Mountains, this modern, curvaceous home was begging for a more appealing yard and landscape design than just the typical closed in pool and patio. Joe and Diane Corvino, while living out of state for nearly the entire project, entrusted Kirk to bring his insights to their AZ home-away-from-home. Bianchi, delighted at the opportunity, sought to reflect and integrate the surrounding desert landscape of boulders and cacti to create an expansive, seamless-with-nature outdoor living experience.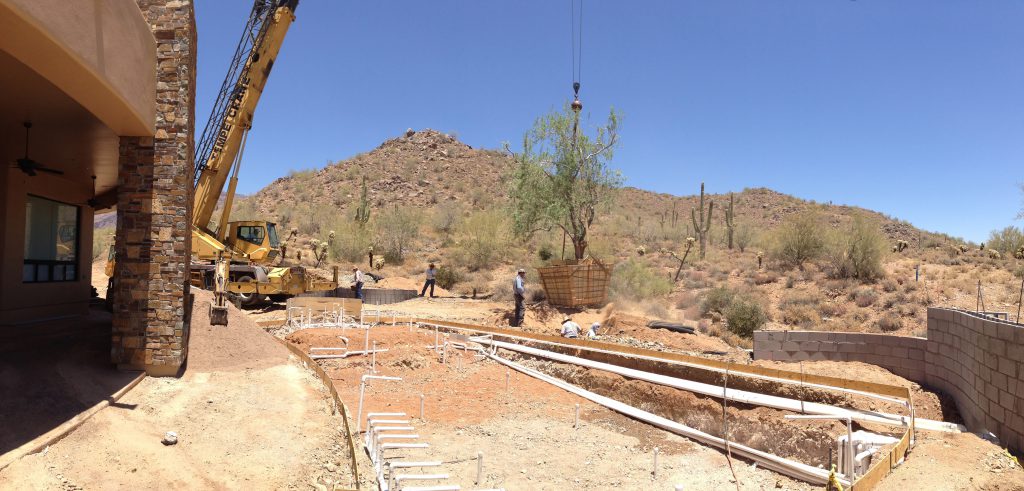 Three elements would be instrumental in Bianchi's approach: unobtrusive fencing, an "edgeless" pool that blended into the native surroundings, and several large scale mature salvaged trees, craned in place, to bring the desert context right into the patio area.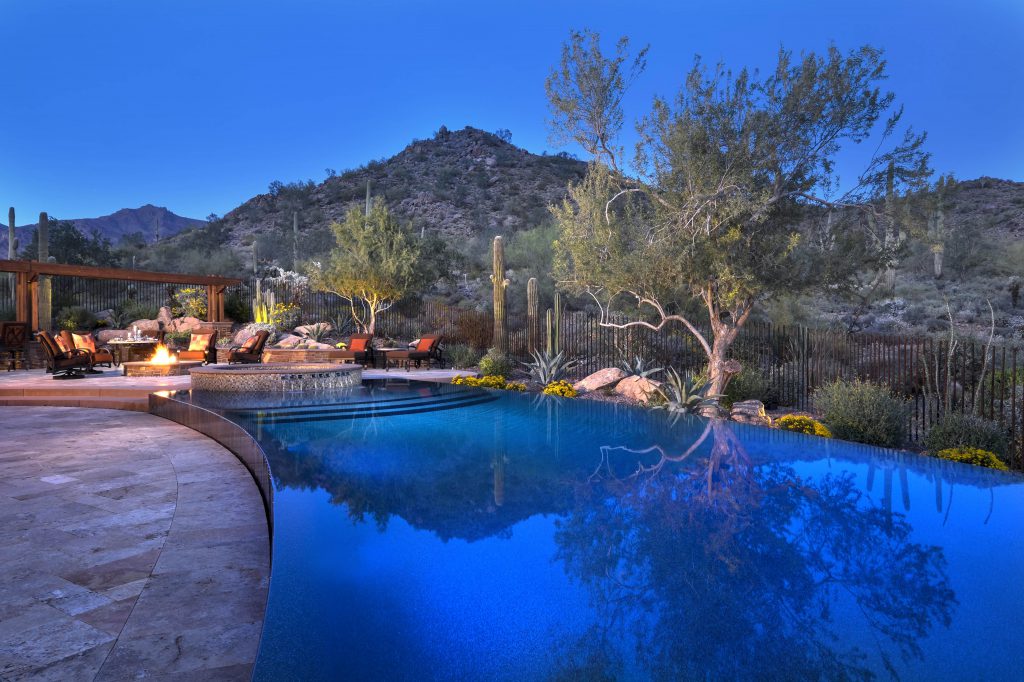 The colors and materials were also key in blending the setting to the surrounding. Richer than your average travertine pavers were selected, to pick up the amber and caramel tones found in the home's stone cladding and the desert floor beyond. A steel colored tile was used for the pool overflow, and a glass spa, crowning the jewel of the yard, was also blended by selecting a tile that pulled from the yellow brittle bush flowers and palo verde greens immediately behind the setting.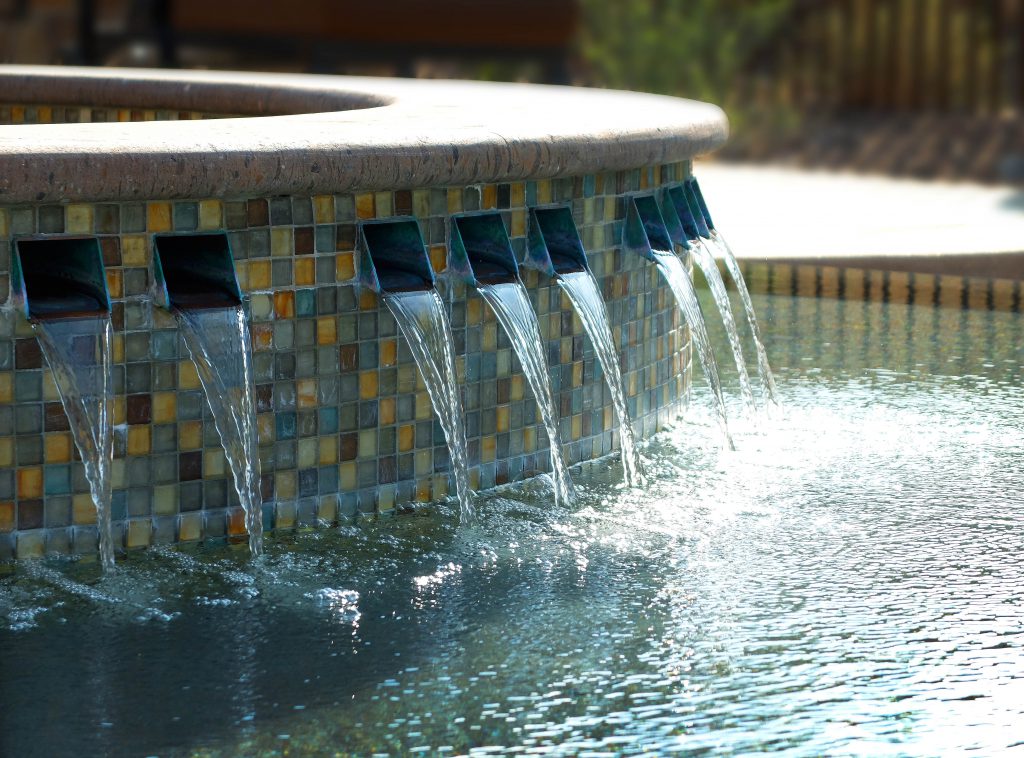 The stone cladding of the home was further distributed around the yard as well, adorning several site walls, seat benches, and even the bbq facing.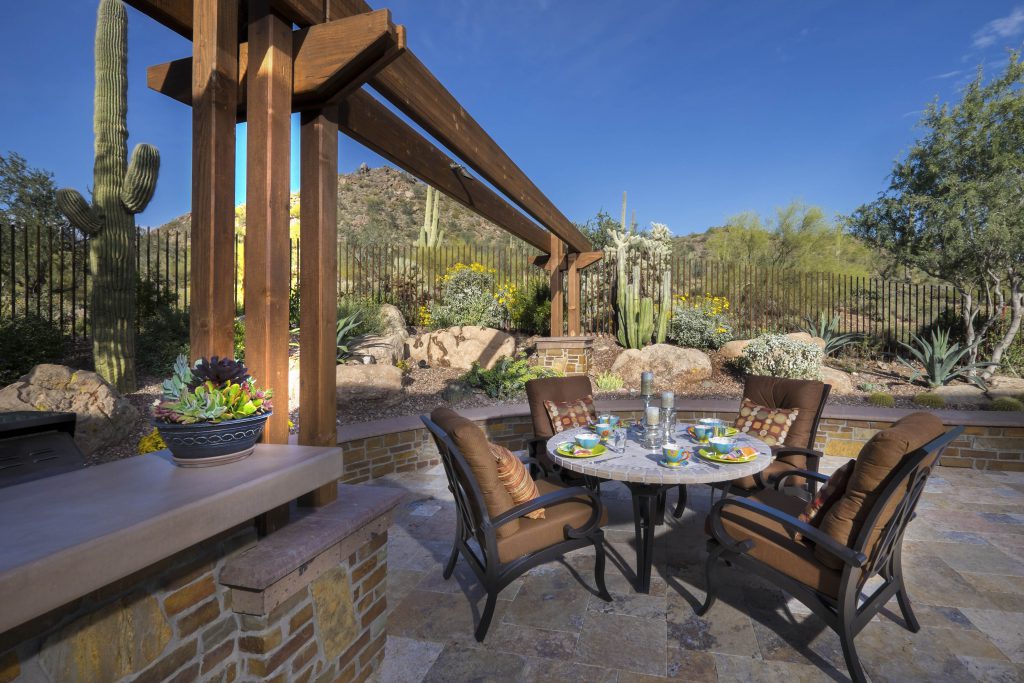 Bianchi, loving to collaborate with experts in their craft, brought designer Morgan Holt of EarthArt Landscape in to further the planting and lighting design, and then implement the construction of the site work, while Tyler Matthews of Natural Reflections was instrumental in bringing the pool to fruition. Holt crafted a fence that blended perfectly into the landscape, made of 1" rebar stakes, 4" gaps to keep out large animals, and rust-colored to match the desert coloration. Each stake is at a different height in order to dissolve what could otherwise be a clearly delineated and distracting fence line. The staggered heights make it harder for the eye to follow, rendering the fence all the more invisible.

One of the striking characteristics of the home was a sweeping radius arc that delineated the roofline and shape of the back patio. Always looking for cues and precedent, this line could not be ignored. Instead, Bianchi reinforced this feature by carrying the same curvatures out into the patio and form of the pool itself, so that the elements then played off of each other.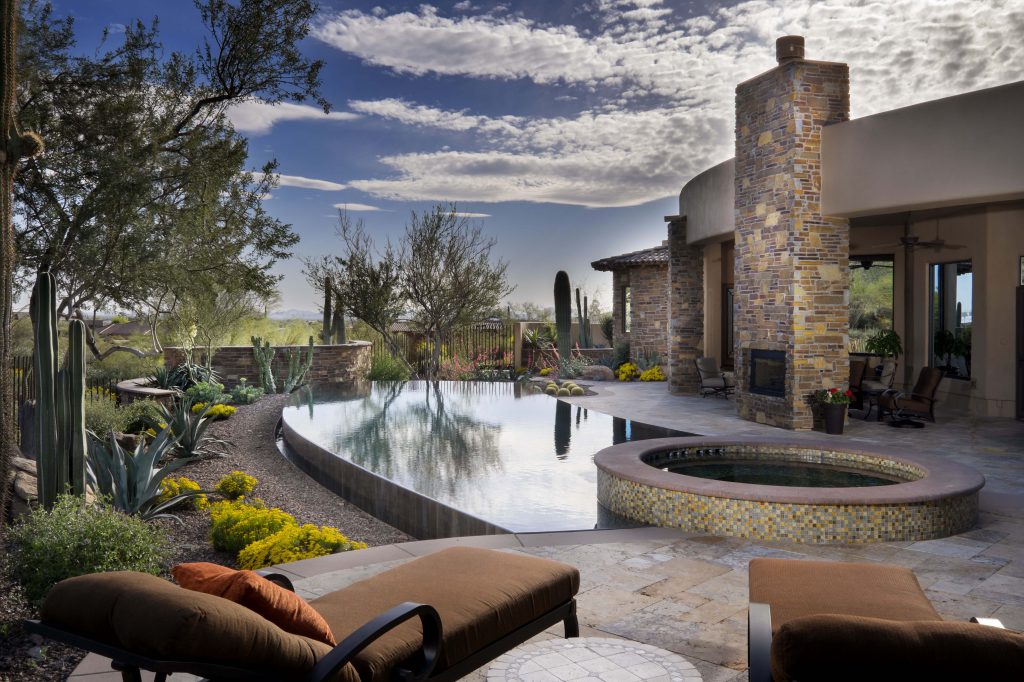 "It was a privilege to bring this site to its full potential for the Corvino's," Bianchi says. "When one enters the space, immediately you feel light, and your cares lift away, and you never want to leave! THAT is what I do. Pools, landscape, lighting, these are merely tools to bring about that emotional response. For every client, no matter the scale or setting, I seek to create that perfect place to live out every day, the place you long to come back to, the place to call home."